Monitoring everyone who enters your facility or business is known as visitor management. Customers, delivery persons, job applicants, contractors, consultants, or the CEO's cousin can all be visitors. Everyone who isn't a regular, full-time employee is, in essence, a visitor. A tool called a visitor management system is used to formally track visitors through a visitor tracking system.
Many of you must be wondering how to use a visitor management system for your business growth. But before we dive into that section, let us try to understand the concept of a visitor management system in more detail.
How many people are now present in your office? You had how many yesterday? How about August of the previous year?
If you were able to find the old Excel spreadsheet in your shared drive or answer the questions at all, it was probably because you had to manually count the entries in the binder that contains your guest sign-in sheets.
Consider what happens when guests enter your office now. Who welcomes them? A friendly receptionist who engages them personally and makes them feel welcome? Or one who has been stuck to a desk all day and is bothered and lacking in coffee?
Perhaps nobody is present to welcome guests at all. What do they do next? Do you wait around till a worker passes by, or do you start knocking on doors you see? Unattended lobbies and open doors are common in many buildings, making it possible for anyone to enter any office at any time.
These straightforward situations occur daily in offices all across the world. They also show how important visitor management is. They specifically demonstrate the necessity of the best Visitor Management software, sometimes known as a digital check-in system.
This article defines a visitor management system and explains why so many companies use it nowadays.
Visitor Management Systems Prior To The Advent Of The Digital Age
The sign-in sheet, a piece of paper typically maintained on a clipboard or in a binder at the front desk, is the archaic version of the top Visitor Management Systems. The visitor should record their name, the person they are coming to see, and the time when they arrive with the help of these visitor registration systems. The front desk employee then informs the host that their visitor is waiting in the lobby. A new sign-in sheet for the next 10 or so guests emerges on the clipboard when the previous one is eventually filed away or destroyed.
It is not a very effective visitor management method (and certainly not environmentally friendly). But it functions as long as you don't require visitor logging that can be easily searched, visitor images, or ID badges. Additionally, as long as you're okay with paying someone to work the front desk all day in case a package or guest shows up.
But for the majority of businesses today, that doesn't cut it. The majority of businesses cannot afford to pay someone to work the front desk. A pen and paper can't give the kind of security that businesses want.
And, let's face it, no business likes to appear outdated, particularly when it comes to technology. You want to appear cutting-edge and contemporary. You want to demonstrate to the world, your clients, potential employees, and job candidates that you are cutting-edge.
Who goes to offices and what for?
What kinds of visitors you receive will depend on the type of organization you have. Examples of office visitors can be divided into three main types, each of which has various subgroups:
Workers are now a new category of visitors, joining subcontractors, visiting staff from other offices, potential new hires, delivery drivers, VIP clients, business partners, and cleaners. By providing each type of visitor with varying levels of access permits and providing a high-level overview of all visitors, an efficient visitor management tool improves both the building's security and the guest experience.
What makes visitor management crucial?
To keep the workplace secure and in compliance while providing each visitor with a first-rate experience, visitor management is essential. However, the conventional method of managing and tracking visitors, which relies on manually gathering and storing visitor data, typically with a paper-based visitor sign-in book, may expose businesses to risk while reducing productivity and efficiency.
What are the necessary steps taken to manage visitors?
The underlying issues and difficulties entailed
Are you dealing with erratic visitor flow and have you increased staffing at the front desk to handle high periods? However, it is difficult to estimate how many customers, deliveries, contractors, and hybrid workers will arrive, which can result in the saturation of either too many or too few employees. You are likely to encounter the following difficulties whether you use a guest book or a conventional electronic visitor access management system that employs a web-based network to monitor and record visitor information:
High administrative costs were a result of the reception desk's manual procedures.
Risks related to compliance result in fines and harm the reputation of the company.
Due to the visitor management systems isolation from other building systems, the crew must perform additional manual tasks.
To resolve this challenge, we require Visitor Management System for hospitals.
Modern Visitor Management System
Web based Visitor Management Solution is replacing traditional visitor management tools like binders, pens, and paper in businesses today.
A web based visitor management system (VMS) is a tool that enables businesses to automate and expedite their visitor management procedures by keeping track of, monitoring, and recording visitor data electronically. Preregistration of visitors, effective communication, quick check-in, interactive mapping, and successful visitor management processes are all made possible by the integration of visitor management system software, hardware, and databases. A cloud-based visitor management system called a smart visitor management system check in visitors and staff and links to various services. With virtual visitor management systems, you can easily manage the outflow of visitors in your organization by authenticating their identities and scheduling their meetings with the respected employee as per the availability of that visitor.
The essential function of checking guests in is handled by a digital Visitor Management System India. But it can also perform a list-related numbers of tasks that a pen and paper cannot, including:
Maintain a visitor logging on to the cloud.
Take pictures of your guests so you can recognize them.
Create visitor ID badges with your company's branding on them.
Obtain signatures for legal documents such as NDAs.
Accept deliveries from courier services such as UPS, FedEx, and others.
Notify users via SMS, email, and Slack when visitors arrive.
Allow visitors and staff to converse with each other in both directions.
Accept food delivery and drop-offs of documents.
Give directions to guests.
The Best Online Visitor Management System boosts office productivity, improves office security, and improves your company's reputation. Let's examine each of these great advantages individually.
Office Productivity:
The original company visitor management system was created to address two key productivity issues in offices: excessive interruptions and receptionists spending too much time at their workstations.
Office security:
Office security is the focus of the following group of advantages. A Free Visitor Management System, in particular, aids in overcoming difficulties with information security, visitor privacy, emergency evacuation plans, and legal compliance.
Brand Image:
The brand image of a corporation is the focus of the final significant collection of advantages. A Free Visitor Management Software specifically assists you in making a fantastic first impression and ensuring your current brand image is the one you want.
Benefits of a contemporary company visitor management system
Here are a few highlights from our detailed discussion of the advantages of the visitor management system, which was informed by both research and the insightful comments of our clients.
Help front desk personnel provide better customer service
Do self-service kiosks replace or enhance in-person interactions with people? It's simple to think of visitor management systems as a tool that requires "no human engagement" and lets guests take care of themselves. However, by automating most of the monotonous processes, the reception crew may transition from working behind the desk to providing a concierge-style service. They have the power to enhance client service and provide value to the lobby, which has "dramatically enhanced production.
Increasing workplace safety
Verify and monitor each person who enters your building. Workplaces may encounter a variety of security risks, including:
Strangers or uninvited guests entering the building
Identity fraud and the intentions of strangers
Lack of knowledge about who is present in the office or a change of attitude regarding working from home.
Visitor management systems automate the visitor registration and identity verification processes with real-time insight into the building's safety to ensure the greatest level of office security. For auditing purposes, all data is recorded and available as digital reports. Updated visitor data can be retrieved in an emergency to determine who is present and where they are in the building.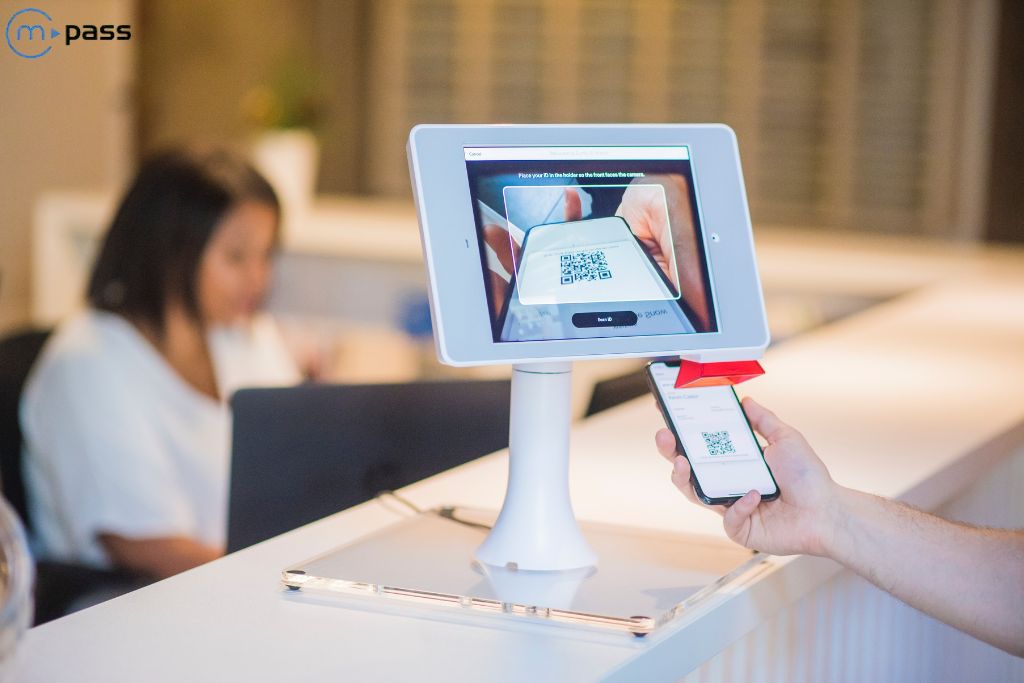 Access control system integration
One of the key components in making offices safer and more intelligent is the integration of office access control. Any firm security policy can be tailored or accommodated by the technology, from upgrading the pass to permitting guest access control through any international or domestic barrier system. Now that they are aware of who has checked in, the facilities manager can manage guest admission.
The following are the top 5 reasons to combine access control and guest management systems:
Create your own guest access levels and track them digitally around the clock with building security
Efficient background operation using the guest management system in Microsoft Access
Integrate with leading access control systems on the market
Cost cutting
The cost savings from administrative expenses, labor costs, and the maintenance of older systems are compared to the cost of deployment and subscription to determine the visitor management system cost savings.
1. Lower labor expenses
By eliminating manual duties, you can reduce labor expenses and increase productivity by avoiding the need to overstaff your reception during times of high traffic. In the meanwhile, you can reassign your receptionists to departments within the company that add more value.
2. Spend less on maintaining outdated programs
If your visitor management relies on a legacy system, you're probably spending a lot of money on its implementation, support, and maintenance.
Efficiency
Two ideas—the On-grid and Off-grid, and the evaluation of digital efficiency—will be covered in order to best illustrate the efficiency that visitor management systems may provide.
1. On-grid and off-grid concepts
The optimum efficiency in the workplace is delivered through "connected workplaces," where various systems exchange data to improve the user experience or speed up procedures. Consider two options: On-grid when systems are linked and connected, or Off-grid where some systems exist but where processes are mostly manual and expensive. It is a simple but important concept: On-grid when systems are linked and connected or Off-grid when systems exist but where processes are mostly manual and expensive.
2. Digital Efficiency concept
We created a free digital efficiency calculator application to assess the amount of manual labor and touch-intensive workflow components. Embracing a solution that can assist the organization in continuously adapting and evolving in a market that is ever-changing is another aspect of digital efficiency. Challenge your workflow step, procedure, and data source, as we encourage you to do. We also provide a visitor management system for office and school to ensure virtual queuing of the visitors in these sectors as well.
Which guest management system is best?
Consider your audience
Begin the client journey while keeping your visitors in mind. Spend a day observing how an employee, a contractor, and a visitor utilize your building, noting what functions well and what doesn't, and asking them what should be changed.
Assess the front desk staff: Deconstruct the transportation model
Calculate your workplace's digital efficiency to discover how many staff members you truly need during busy periods and how your visitor management solution may improve front desk service. Different types of reception confront different issues.
Switch from discussing costs to "return on investment"
Returns on investment and returns on the experience you provided have taken the place of budgets as a term.
Give the integration and adaptability of the solution top priority
Your workplace should adapt to the new technology you are considering, not the other way around. Both staff members and visitors should find it simpler to live their lives. For visitor management systems to maximize the value of the innovation you introduced to the workplace and increase staff productivity, integration with any program is essential. Wayfinding, hotel and desk reservations, intelligent lockers, access control systems, and data reporting are the top 5 pieces of visitor management system software we suggest for integration.
What is the need for visitor management systems?
Businesses have long had to manage visitors, but the transition from paper visitor logbooks to digital systems took some time. The challenges included issues providing a uniform system to numerous company locations with varied processes and requirements, as well as overlaps between operations, facility management, and IT. The outdated on-site visitor management program costs money and needs upkeep.
These challenges prompt the development of time and money-saving cloud-based visitor management software, or SaaS. Users around the internet can access it thanks to this licensing approach for visitor management system software. Users can control visits via a visitor management system app or a web browser. The necessity for manual patching and updates is eliminated by the fact that many cloud-based visitor management systems offer thorough customer support in addition to monthly or annual subscriptions that can be updated continuously. There are several visitor management tools on the market; let's look at them and explain how to pick the finest ones for your needs.
Modern visitor management system not only digitalize visitor data and records but also provide an open API for integrating with other workplace administration systems. For instance, they can be fully customized and interact with access control systems, conference room and desk scheduling, and navigation solutions. Modern visitor management systems are a long-lasting solution that adapts to the growth and the needs of the organization because they can be integrated with any workflow. Personalized meeting invitations, host notifications, visitor registration, video calls with virtual receptionists, catering, managing deliveries, meeting space reservations, and other well-known features are only a few of the features of the best visitor management system for school.
Conclusion:
Thank you for reading our blog post so far. Here's a sneak preview of the visitor management of the future.
VMS Visitor Management System will prevail in the coming years, and paper sign-in sheets will completely vanish from workplaces. Nobody will be upset by this. The capability to scan visitor IDs, such as driver's licenses, and integrate them with physical security systems will be the next significant step.
The visitor management system will begin combining with other office administration technologies, such as conference room scheduling apps, after physical security. All of the devices you employ to transport people into and around your business will communicate with each other without any issues as a result.
So, this blog post must have given you a fair idea about visitor management systems and explained why so many companies use them nowadays.