A visitor management system is a visitor management software that is used to register visitors. This is also known as a visitor tracking system that keeps track of their visits. It is a tool that helps in managing the office and its resources. It records the list-related numbers of visitors, their names, time, date, reason for visits, etc.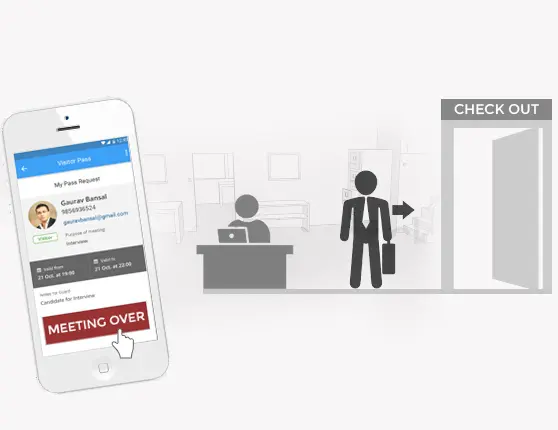 In this blog post, we will have a look at the 10 best visitors management system in India that you can use to manage your office or business efficiently.
Envoy
The only guest management system available now is called Envoy. Users can access it easily, and it responds more quickly. Its major objective is to collect all of the user's personal information, including cellphone numbers, photographs, and signatures, and to modify their functioning as needed.
mPass
In order to connect, cooperate, and thrive with individuals, the mPass is the best Visitor Management system India and is revolutionizing modern workplaces for hybrid work and safely bringing people together. By creating free visitor management system tools for a flexible workplace environment, mPass has redefined how businesses greet guests, ensure employee safety, reserve desks and conference rooms, and manage deliveries in numerous locations in India. This is why this software becomes more popular among its customers.
The receptionist
A visitor management system, The Receptionist for iPad, is intended for SMEs and larger businesses. End-to-end solutions created for Windows are offered by The Receptionist for iPad. Alerts or notifications, registration management, pre-registration, visitor tracking, and badge management are all provided by this online visitor management system in one location.
Greetly
Greetly is the only free visitor management system that can be fully customized and is used by enterprise and SMB clients worldwide. The digital receptionist visitor management software from Greetly helps customers manage their visiting clients, vendors, and interview candidates, as well as package and food deliveries, facility tours, secured facility entry or exit, and more. Greetly may be tailored to the branding and particular receptionist requirements of every work environment. These visitor registration systems include tips for immediate visitor notifications, eSignature collection, and visitor badge printing.
Vizitor app
Vizitor is a fully functional visitor management systems tool made for startups and businesses. There is an issue with how to implement Windows solutions in an app. End-to-end Windows solutions are offered by Vizitor. Self check-in, alerts or notifications, badge management, visitor tracking, and pre-registration are all provided by this online visitor management system in one location.
Veris
Veris provides intelligent workplace solutions that improve user experience and safety. It is a set of solutions for businesses and modern workspaces. Veris offers solutions for desking, visitor logging management, and meeting room management.
ILobby
ILobby drives site security needs, enforces safety procedures, and achieves regulatory compliance in complicated work settings by improving and automating essential facility processes. The strong reporting, simple onboarding, and wide configurability of the ILobby platform assure maximum effect in intricate and regulated industries.
Even in highly regulated establishments like the government, banks, airports, industries, schools, and workplaces, ILobby optimizes your front desk and offers an extra layer of protection. The platform condenses the labor-intensive process of visitor screening into one quick and simple stage. Its enterprise-level features make it simple to quickly achieve a high level of security and compliance.
Happy Visitor
Happy Visitor is a robust visitor management tool created for SMEs and agencies. Windows end-to-end solutions are offered by Happy Visitor. This great online visitor management system provides pre-registration, ID scanning, watch lists, visitor tracking, and badge management all in one location.
Proxyclick
Leading businesses can manage visitor, employee, and contractor flow between locations with Proxyclick while remaining safe and compliant. The cloud-based system provides unrestricted usage per location, customized smart flows, an unmatched user experience, extensive access control and visitor management software integrations, and cutting-edge security, safety, and privacy features. It is backed by a customer success team that is recognized as the best in the world.
Lobbytrack
For contactless guest management, Lobbytrack is the ideal VMS visitor management system (ViMS). The visitor sign-in system and free visitor management software help you swiftly sign in and out visitors on iOS, Android, and Windows Tablets platforms. You may also quickly take pictures, perform guest check-ups, sign non-disclosure agreements (NDA), and print badges using the web based visitor management solution.
The visitor management system from Lobbytrack gives organizations and businesses total control over everyone on their property. You never need to manually update the staff and guest databases since Lobbytrack keeps everything in sync. Without the need for the visitor to take any action, hosts can schedule visits and sign out guests using the visitor management app. The security guard app also enables the speedy forwarding of notifications and evacuation schedules.